Buy with an area expert
Buying a home in this competitive market can be challenging and frustrating for many buyers.
We are here to make the buying process as simple as possible by educating you on the current market, strategies to win in multiple offers, and how to navigate the process from start to finish.
Full-service buying experience
Buying a home is more than just finding the right property. You need an expert who understands the local market and the unique challenges it faces. We have the strategies, resources, and tools to guide you from start to finish, seamlessly.

We have access to exclusive properties in the area.

We work with only the best home inspectors in the area.

We have an exclusive vendor list of companies that will help you.
How to buy like a pro!
If you're in the market for a new home, check out these 11 tips on how to find the best possible real estate deals in your area.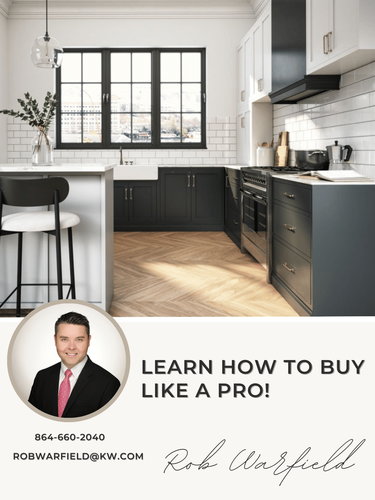 how to buy like a pro
Free Buyer's Guide
Comprehensive Real Estate
Buyer's Guide
A few of our amazing clients.
"Worked with Rob on a very significant transaction and was extremely pleased with his character and attention to detail!"
"I had the pleasure of working with Rob recently and I have to say, he is one of the most hardworking and dedicated realtors I've ever met. Rob is incredibly quick to react to any situation that arises, always staying one step ahead of the game. He is level-headed and keeps a cool head under…"
"Class act! We were interested in Rob because he truly differentiated himself from the large pool of realtors in the Upstate. He has a strong social media presence, professional resume, current LinkedIn profile and extensive long term examples of real estate success. We hired Rob, because we…"